Astaxanthin – the red diamond amongst antioxidants
A powerful ingredient to support a radiant and healthy skin
anti-ageing
Antioxidant
Astaxanthin
oxidative balance
Abstract
The human skin is a complex and multifunctional organ that protects the body from external physical, chemical and infectious attacks. It is not only a barrier shielding of the human body from external factors. It also functions as a sensory organ, prevents the organism from losing water through evaporation and is the site of immunological defence mechanisms and biosynthesis (e.g. of vitamin D3).
In order to fulfil its various functions, a good skin health is important. An essential indicator of the skin's health is its visible appearance. A firm, youthful-looking skin with a radiant complexion and natural warm glow is not only a desirable feature of beauty, but also indicates a good state of health. However, intrinsic and extrinsic influences like lack of sleep, a poor nutrition, stress, air pollution or solar radiation can cause the skin's radiance to fade. Both factors promote an overproduction of reactive oxygen species (ROS) and lead to a state of oxidative stress, a major cause of skin damage and premature skin ageing.[1]
Oxidative stress and its influence on skin health
Typical characteristics of healthy young skin are a fresh complexion with a warm and radiant glow, as well as a firm, smooth and even texture without imperfections. Whenever the skin is exposed to intrinsic and external stressors, changes occur in certain molecules in the body that lead to the formation of various highly reactive oxygen species (ROS) and free radicals, causing oxidative imbalance.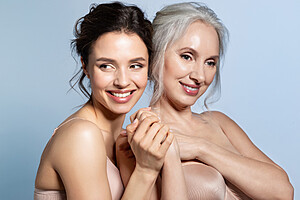 Figure 1: Natural visible appearance is an indicator for the skins state of health.
When free radicals attack cell membranes, they activate enzymes that lead to cell death, inflammatory responses and changes in skin appearance (Figure 2). They can also interfere with DNA and trigger a series of damaging cellular processes and cell mutations by damaging DNA's structure. This leads to a chain reaction causing various changes in the dermal layers, including the destruction of collagen and other molecules that are vital for skin elasticity. It also impairs the natural renewal and repair process of the skin and impairs the skin's ability to perform its various functions. [2]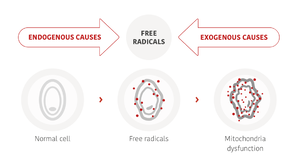 Figure 2: Free Radicals attack cell membranes and cause oxidative stress
Exposure to harmful oxidation-promoting environmental conditions (e.g. intense UV-radiation, air pollution, blue light) is increasing in the 21st century and promotes chronic low-level inflammation in the skin. This enhances a gradual erosion of the skin's dermal cell structure and functionality, making it more sensitive and susceptible to oxidative damage and accelerates premature skin-ageing processes, also known as inflammageing. Dermal tissue structure and functionality also changes naturally with rising age and with it its ability to protect itself from oxidative stress and to perform its various functions in the best way. Damaged or aged skin is characterised by skin dryness, a sallow complexion, deep wrinkles, pigmentation, sagging, increased transepidermal water loss (TEWL) and epidermal barrier disorders.[3]
In order to maintain the skin's functionality and protect it from reactive oxygen species and associated degenerative pathways, various natural and synthetic compounds can be used in cosmetic formulations. Antioxidants are very common substances often used in cosmetic products to maintain overall skin health and a youthful, radiant appearance.[2]
Antioxidants against skin deterioration
Antioxidants are a group of substances that counteract skin deterioration by neutralising reactive molecules. Healthy skin naturally produces or absorbs antioxidants in dermal tissue to prevent radical damage and maintain oxidative balance in the cells. Prolonged exposure to stressful conditions overwhelm this innate defence system through overproduction of free radicals, leading to a state of oxidative imbalance. The incorporation of antioxidants into topical skin care products is widespread to provide additional protection and supplement the body's innate defence to promote healthy skin and prevent premature ageing. First, they can lower oxidative stress levels and secondly some of them are able to impact specific biological mechanisms enhancing the skin protection and repair.[2]
When selecting antioxidants for cosmetic formulations, it should be considered that there are numerous antioxidants that may differ in their effectiveness. The strength of various antioxidants in neutralising singlet oxygen was determined by Nishida et al. The antioxidants tested in this study were natural astaxanthin, coenzyme Q10, vitamins C and E, and many other known antioxidants. The results showed that astaxanthin is 6,000 times stronger than vitamin C, 790 times more powerful than CoQ10 and 110 times stronger than vitamin E in neutralising singlet oxygen. Therefore astaxanthin is also known as the red diamond amongst antioxidants.[4]
Astaxanthin – the red diamond amongst antioxidants
Astaxanthin a naturally occurring reddish pigment derived from microalgae Haematococcus pluvialis (Figure 3) is considered to be the most powerful natural antioxidant without any pro-oxidative nature, highly efficient at counteracting reactive oxygen species. Beside it's antioxidative potential it has great anti-inflammatory properties.[1]
In several human studies astaxanthin has shown to improve overall skin health and counteract skin ageing by providing comprehensive protection against oxidative degradation. Positive effects were shown in particular with regard to elasticity, moisture retention, age spots, wrinkle depth and skin texture. Astaxanthin improves skin elasticity by strengthening the collagen layer and revitalises stressed skin by getting rid of free radicals in all dermal layers. It is able to restore skin's natural antioxidant balance and thereby protect cell membranes against lipid peroxidation.[5]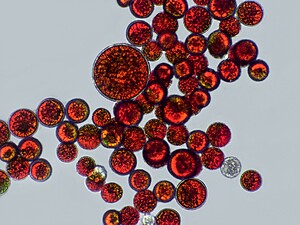 Figure 3: Astaxanthin-rich cells of microalgae Haematococcus pluvialis
In vitro and in vivo it was shown that the topical application of astaxanthin provides excellent biological cell protection against inflammatory reactions. Therefore, the use of astaxanthin in cosmetic formulations could prevent inflammation-related degradation of skin structure and later stages of skin disease. [6,7]
BDI-BioLife Science has developed a special COSMOS-certified and Natrue approved active ingredient to bring this unique antioxidant into cosmetic formulations. AstaCos® OL50 is a vegan, animal testing free ingredient, derived from microalga Haematococcus pluvialis. It has already shown its potential to neutralise free radicals in several in vivo and in vitro studies and has proven to be an efficient active ingredient for anti-ageing products. With the in-house astaxanthin competence centre, BDI-BioLife Science supports with expertise in processing and formulating AstaCos® OL50, proven by various frame formulations and scientific dossiers.
A powerful red diamond for a healthy radiant complexion
Skin glow and radiance are mainly influenced by the reflectivity of epidermal skin cells. Intact skin with a homogenous smooth and even texture reflects light, while damaged dry skin cells with an oxidised lipid membrane and a rough uneven texture absorb or scatter light. Oxidative stress impairs the natural renewal and repair process of the skin, resulting in an inhomogeneous complexion that may appear dull, tired and rough.
In an in vivo study with 22 female subjects aged between 30 and 50, the radiance and glow effect of astaxanthin on human skin was evaluated. For the test, a dosage of 4-5 drops of 0.05% AstaCos® OL50 diluted in jojoba oil was used in the face and neckline for 28 days. No other products were applied to the tested area during the testing period and 24 hours before.
Measurements were taken in the laboratory at the beginning of the study before the first treatment, 30 minutes after the first application of the product and on day 28 after the test product was applied twice daily to the tested surface. The brightening/radiance effect was quantified by analysis of photos taken with the ColorFace® acquisition system (Newtone), which is a standardised system for taking photos of the entire face.
After applying the astaxanthin-rich ingredient twice a day for nearly a month a significant improvement (p<0.01) of skin homogeneity was found (Figure 4). Furthermore, skin glow improved significantly (p<0.01) 30 minutes after application (Figure 5). A dermatological control on each person at day 0 and 28 showed no intolerance reactions.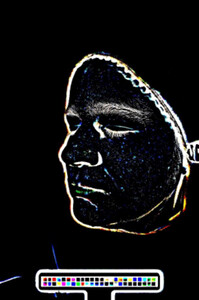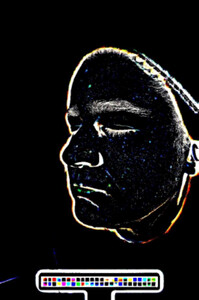 Figure 4: Illustration of skin homogeneity analysis ColorFace® on D0 (left) and D28 (right)
In addition, a self-assessment questionnaire was completed at the end of the test phase to evaluate the subjective sensation, efficacy and cosmetic quality of the product (Figure 6). In the self-assessment questionnaire, over 90% of participants stated their skin was softer and more hydrated at the end of the test period and 82% affirmed that the product provides a healthy glow effect upon application. In addition, more than 70% of the participating test subjects found that the treated skin looks revitalised and radiant. They stated that the glow effect lasted throughout the day and that they were convinced of the effectiveness of the test product.[8]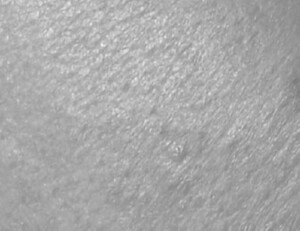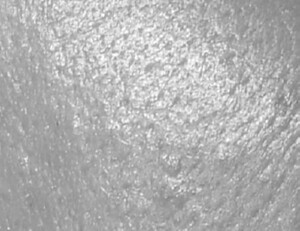 Figure 5: Illustration of skin glow analysis ColorFace® before (left) and 30 minutes after application (right) on D0
In another in vivo efficacy study, the effectiveness of astaxanthin was confirmed in an application test. A total of 25 female and male volunteers aged between 35 and 72 years (Ø 52.9 years; skin profile sensitive to atopic skin) participated in this in vivo study and were supervised and monitored by a dermatologist. All volunteers were instructed to use a serum containing 0.05% of the active ingredient for facial care once a day over a period of four weeks. They were instructed to use only the test product and to maintain their usual skincare routine. After applying the test substance for 4 weeks, more than 80% of the respondents confirmed a good moisturising effect. The subjects reported a significant reduction of wrinkles and lines as well as a reduction in age spots and pigmentation. Furthermore, they described their skin as firmer after having completion of the study. [9,10]
Conclusion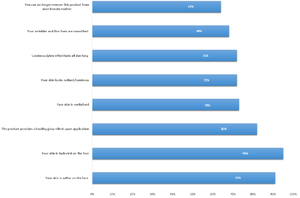 Figure 6: Evaluation of the effectiveness of the product after 28 days of application
Numerous research studies have led to the conclusion that astaxanthin can improve overall health of the skin and counteract skin ageing, inflammatory processes and the degradation of its functionality. Due to its multiple properties, astaxanthin acts exactly where it is needed and penetrates deep into the skin layers. In particular the potential to provide biological cell protection can be highlighted. Astaxanthin from microalgae is a perfect choice for skincare products as it protects our skin from negative environmental influences, helping to maintain healthy, well-functioning skin with a youthful and glowing complexion.
About BDI-BioLife Science
BDI-BioLife Science is a specialist in the development of innovative technologies for the production of high quality algae ingredients for the life science industry. In the production plant located at Ökopark Hartberg/Austria, BDI-BioLife Science produces high-quality natural astaxanthin tailor-made for the cosmetics (AstaCos®) and nutritional supplements (AstaFit®) industries using its closed algae cultivation process.
References
[1] D. R. Bickers and M. Athar, "Oxidative stress in the pathogenesis of skin disease," J. Invest. Dermatol., vol. 126, no. 12, pp. 2565–2575, 2006, doi: 10.1038/sj.jid.5700340.
[2] S. Davinelli, M. E. Nielsen, and G. Scapagnini, "Astaxanthin in skin health, repair, and disease: A comprehensive review," Nutrients, vol. 10, no. 4, pp. 1–12, 2018, doi: 10.3390/nu10040522.
[3] S. M. Pilkington, S. Bulfone-Paus, C. E. M. Griffiths, and R. E. B. Watson, "Inflammaging and the Skin," J. Invest. Dermatol., vol. 141, no. 4, pp. 1087–1095, 2021, doi: 10.1016/j.jid.2020.11.006.
[4] Y. Nishida, E. Yamashita, and W. Miki, "Quenching Activities of Common Hydrophilic and Lipophilic Antioxidants against Singlet Oxygen Using Chemiluminescence Detection System," Carotenoid Sci., vol. 11, no. January 2007, pp. 16–20, 2007.
[5] K. N. Singh, S. Patil, and H. Barkate, "Protective effects of astaxanthin on skin: Recent scientific evidence, possible mechanisms, and potential indications," Journal of Cosmetic Dermatology, vol. 19, no. 1. Blackwell Publishing Ltd, pp. 22–27, Jan. 01, 2020, doi: 10.1111/jocd.13019.
[6] D. Kopera and J. Kim, "UV-protective Properties of Topical of Astaxanthin Half side Controlled Pilot Study," International Journal of Clinical & Experimental Dermatology, vol. 6, no. 1, pp. 13–16, 2021.
[7] D. G.-R. institute for reliable Results, "Physiological/Histological in vitro Expertise," 2021.
[8] BIO-EC – Centre de Recherches Biologiques et d'Expérimentations Cutanées, "Radiance and Glow on a Panel of Volunteers: Report of the Study," 2022.
[9] D. G. K. Institute for E. D. at Witten/Herdecke, "REPORT über einen Anwendungs- und Verträglichkeitstest des Prüfpräparates," 2021
[10] T. Seki, H. Sueki, H. Kohno, and K. Suganuma, "Effects of astaxanthin from Haematococcus pluvialis on human skin," Fragr. J., pp. 98–103, 2001.
Author:
Elisabeth Willeit, MSc.
Elisabeth is Product Development Manager with a focus on Regulatory Affairs at BDI-BioLife Science. In addition to her degree in food product and process development at FH Joanneum, she has professional experience in the food industry. She works as an interface between sales, quality management and product development and deals with regulatory affair issues.